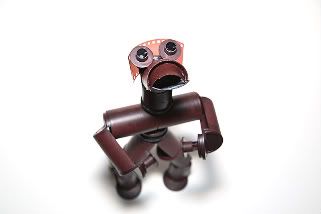 I like my coffee at
f5.6 at 1/250
.
Wonderful short video take with role reversals for toy collectors
here
I always enjoy insight into an artists thoughts and process. Here is
Audrey Kawasaki's
live journal blog where she shares some background and updates to her pieces. Love her work
and there are link to her regular web site as well.
For the taxidermist in all of
us
.
and a great blog she had there has created her own blog site
here
. Currently simply titled, A Photography Blog. I think she is looking for name suggestions-I don't think she liked mine, "Shove it Photoshelter!".
Another blog that I think is worth checking out is one by the British Journal of Photography. Titled
1854
, a nod to when they first started in print. Lots of great stories, links, and a great way to get a peak and another point of view from someone outside the U.S.